Look what one simple image hath wrought! ;-) A picture (and rather saucy conversation) shared between friends gave birth to a most novel idea. The inspirations captured below often have no beginning, commence in the middle, and tend to work best without an ending. However, some are just too tempting to leave alone...
So don't be surprised if a few result in actual fanfics! *vbeg*
***
Psst! For more great Postcards, make sure you check out the sites of the following fantastic writers:
jPenfoldg and slacker.
You'll be very glad you did! :-)
***


If you have comments, questions, or even Postcard requests...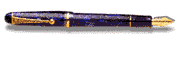 Home